Our pastor
Paul and Glenda Lehman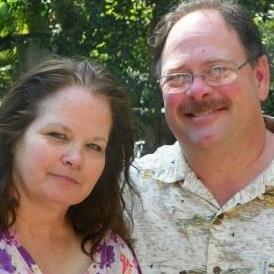 Paul is both the Glade Park pastor and a missionary with InFaith. He grew up in central Pennsylvania and always wanted to be a preacher – even holding "pretend revivals" with his siblings as a kid. He studied at Hesston College in Hesston, KS where he received a degree in religious studies.
In 2011 Paul felt a calling to minister full-time to the Glade Park Church and community. With the support of his wife Glenda, he took a leap of faith, quit his job and became an InFaith missionary and pastor to Glade Park Church.
With the help of his wife, they raise financial support through InFaith in order to serve full-time as a pastor-missionary to Glade Park Church. Glenda co-ministers with Paul in the church and community, performing the behind-the-scenes work, and acts as liaison to their financial partners and supporters.
Paul has also served with Youth With a Mission (YWAM) and the local jail ministries. He continues to do men's ministry, bible teaching and bible studies. In his spare time, he loves to sing, fish, work on his yard and around the house, do one on one mentoring, and travel.
Hello! We are Paul and Glenda Lehman. We are currently serving as members of Field Staff with InFaith. We have been involved in ministry in Glade Park, Colorado for over 10 years. This US-focused mission's agency empowers leaders to "reach local," encouraging us to consider the needs of our communities and how Christ might be leading us to engage. For Paul, that's meant pastoral care, men's ministry, and taking the gospel to our rural community in other tangible ways like mentoring, helping those in need, bible studies and leading the Glade Park Church. To learn more about our ministry and where you can give follow this link.
More about InFaith's Ethos
InFaith enables called and committed followers of Christ to serve with purpose and passion within our nation's borders. We want to be a part of God's change in others even as God is constantly changing us. We try to find the dark places in our local communities and see where Jesus needs to shine by calling people to conversion and discipling them in their walk of faith. We visit the prisoner and the widow. We clothe the naked and feed the hungry. We participate in God's work in our local communities to bring about God's vision for "on earth as it is in heaven" (Matthew 6:10).
We believe that Jesus changes everything He touches. And we believe that He uses our hands to bring about that change. Our country is full of people who are struggling with physical needs, who are lonely and confused and searching — who need hope. And we have the greatest hope of all — Jesus.
InFaith's Heritage
There is much excitement in being a part of a ministry that has been serving this country for a very long time! Here is a short look at the heritage of InFaith:
InFaith is moved by the call to reach locally and spread God's kingdom right here in the United States — something we've been doing for the last 200 years. Though we have roots going back to 1790, our organization was officially formed on May 13, 1817 and called itself the Sunday and Adult School Union. Through the years we've had several name changes from American Sunday School Union to American Missionary Fellowship, to our current name of InFaith. But through it all, we have been reaching locally here in the United States to teach the unchanging truth of God to an ever-changing culture. Go to infaith.org/heritage to see a timeline of highlights from our 200 years of ministering in the United States.
What a joy to be a part of this team and to serve along with them in reaching the local community!